Backstage: How to Purchase an SSL
What is SSL? SSL is an acronym for Secure Sockets Layer, an encryption technology that was created by Netscape. SSL creates an encrypted connection between your web server and your visitors' web browser allowing for private information to be transmitted without the problems of eavesdropping, data tampering, or message forgery.
If you are transmitting sensitive information on a web site, such as credit card numbers or personal information, you need to secure it with SSL encryption. It is possible for every piece of data to be seen by others unless it is secured by an SSL certificate.
For further information on the SSL and our prices, check out this helpful page.
If you wish to purchase the SSL, you can follow the guide below to aid you in the process.
For this article, we will assume that you are already logged into Backstage.
You can access this page directly by clicking here.
1) Click the Add-ons tab from the top menu.

2) From here, use the dropdown menu under SSL Certificate to select the hosting plan needing an SSL certificate and click Order Now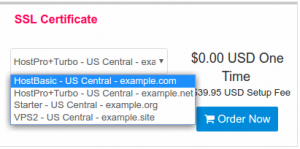 3) Review the SSL order and click Checkout

4) Check if your Personal Information and Billing Address is correct(The billing Information Auto-Populates)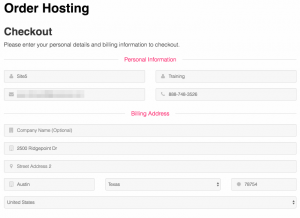 5) Choose a payment method, select the checkbox, and click Complete Order
Note: If you choose PayPal as a payment method, you will be redirected to PayPal upon clicking Complete Order

6) Once the order is processed, you will see a confirmation.

That's it! A ticket has been opened on your behalf and a staff member will contacting you regarding your request.