DNS: How to Setup Google PageSpeed
In this article, we will show you how to setup Google PageSpeed.
Please Note: Currently this service is only offered to a limited number of webmasters. You can request access by filling out and submitting the web form here.
1) Once you have received the approval email regarding PageSpeed, click the activation link in the email.
2) After clicking the link, login using the Google account you used when signing up for PageSpeed.
3) Read the terms and agreement, once you understand them, click the accept button.
4) Once you have agreed to the terms, you should see PageSpeed Service on the left menu bar, please click on it.
5) Enter the url/domain of the website you would like to use PageSpeed with.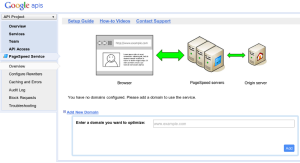 Please Note: If you have not completed ownership verification of this domain before, you will be prompted with the option to do so here.
6) Origin Host
In this section, we need to configure the origin host (the domain PageSpeed will use to pull your website information). In some situations, PageSpeed will automatically find a origin hostname and pre-configure the information for you. If this is the case, you will see "Not Ready – Setup Serving domain" in the Status section.
If it does not say this, then it means it did not find a origin hostname it can use. In this situation, we must create one. The easiest way to create a useable origin hostname is to use.
Record Name: origin

IP Address: Your Server's IP Address (For Information on how to find this, please click here.
For information on how to do this, please click here.
Once this has been setup, return to the PageSpeed page and click Setup Origin Host. From here, follow the on-screen instructions.
7) We now need to setup the serving domain so that when people try to visit our site, they actually use the PageSpeed servers.
We first need to modify our main www record. Here are the settings you will need…
Name/Domain: www.yourdomain.com (replace yourdomain.com with your actual domain)

TTL: 3600
Type: CNAME
Record: pagespeed.googlehosted.com
For this change, you will need to use the Advanced DNS Editor to edit the records that are already in place. For information on how to access the Advanced DNS Editor, please click here.
If you are using a 3rd party to manage your DNS records, please make the changes there.
You will also want to redirect non-www traffic to use your www based domain. For information on how to do this, please click here.
Now click Setup serving domain on the PageSpeed window and follow the instructions on screen.
Note: If you wish to use SSL and Google PageSpeed, please click here for instructions.
For Google's official documentation on the subject, please click here. All images in this article are from Google's official documentation regarding their PageSpeed service.