FTP: Manage FTP Sessions
The FTP session Control interface to view general information about who logs in to your FTP server. You can also use the FTP Session Control interface to terminate FTP connections to your site.
Please Note: This panel will only show FTP connections. It does not show sFTP or SSH connections.
---
FTP Session Control in SiteAdmin
1) Log into your SiteAdmin
2) Select FTP from the left hand menu then select FTP Sessions. Alternatively you can simply select FTP Sessions from the Files section of your SiteAdmin.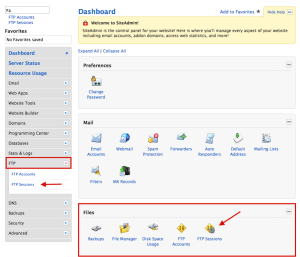 3) If there is any active FTP Sessions at the time, this page will display the username of the FTP account that is presently connected and upon selecting More Info you will be able to see the hostname or IP address in which they are connecting from.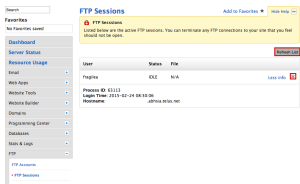 4) If this IP does NOT belong to you or if the page is showing a connection from your IP address despite the fact that you are not connected, close the session out by selecting the X beside the user.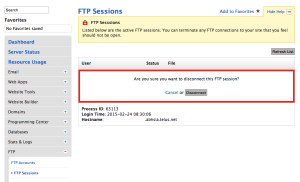 If the IP address did not belong to you, please update your SiteAdmin/FTP password and block the IP address using the IP Ban Manager within your SiteAdmin.


FTP Session Control in cPanel
1) Login to cPanel
2) Click the FTP Session Control link from within the Files section of the panel.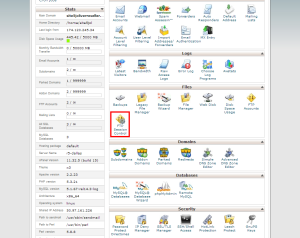 3) Here you can view active sessions or you can kill sessions by clicking the corresponding Disconnect button.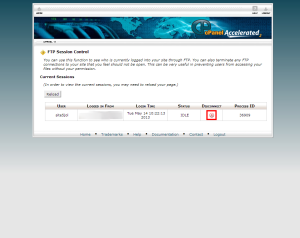 The FTP Session Control interface includes the following information about connections to your FTP server:
| Column | Description | Example |
| --- | --- | --- |
| User | The username for the FTP account that is logged in. | user |
| Logged in From | The host through which the user connected to your FTP server. | ns1.example.com |
| Login Time | The time and date at which the FTP session started. | Fri Jul 19 13:19:20 2013 |
| Status | The status of the FTP session. | IDLE |
| Disconnect | Click the button to stop an FTP session. | |
| Process ID | The process ID for the FTP session. | 13926 |
That's it!