Logs: Access Website Statistics
Wikipedia defines web analytics as not just a tool for measuring web traffic but a tool that can be used for business and market research, and to assess and improve the effectiveness of a website. Web analytics applications can also help companies measure the results of traditional print or broadcast advertising campaigns. It helps one to estimate how traffic to a website changes after the launch of a new advertising campaign. Web analytics provides information about the number of visitors to a website and the number of page views. It helps gauge traffic and popularity trends which is useful for market research.
We offer two very distinct and powerful tools to help you to maximize your website traffic.
The first tool that we offer is titled Latest Visitors.This tool, while being the more basic in terms of interaction, gives detailed information about the last 1,000 visits to your website. This information helps you get to know your audience and monitor repeat visitors so you can tailor your website content to fit their needs. It also helps you locate and fix errors that your visitors encounter.
The second tool available to you is titled AWStats. The Awstats interface compiles information about the way users access your website.
AWStats displays the following details about the visitors to your website:
Monthly, daily, and hourly averages in graphs and tables
The links through which visitors access your website
HTTP error codes
Operating systems
Browsers
Countries of origin
These sound pretty great right? If you are interested in checking it out then simply click the corresponding link below to find out how you can access them. If you are a hardcore stats junkie and love reviewing your access logs daily then you may want to check out our how to guide for accessing your raw access logs.
---
Accessing Latest Visitors & AWStats in SiteAdmin.
Log into your SiteAdmin
Click Stats & Logs from the left hand menu to expose AWStats & Latest Visitors.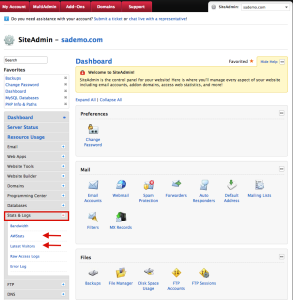 Once you select either Latest Visitors or AWStats you will be taken to another page where you will either select the domain from the dropdown (Latest Visitors) or select view details (AWStats) to access the details of the particular function.
Click here for a glossary for terms used in AWStats.


Accessing Latest Visitors & AWStats in cPanel.
Log into your cPanel.
Scroll down until you see the Logs section of your cPanel. Within this section you will see icons for Latest Visitors and AWStats.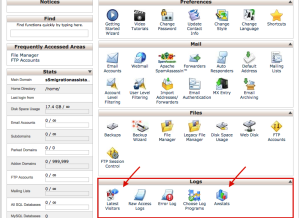 Upon selecting the icon of your choosing, you will be directed to another page where it will list all domains presently configured on this account. To view the stats, simply select the minifying glass beside the domain name in question.
Click here for a glossary for terms used in AWStats.
Thats it! You're all set!