SiteAdmin: How To Install Applications
In this article, we will outline how you install web software using the Web Apps tool within SiteAdmin. If you would like some assistance with the management of the software or you would like to see a full list of software that you can use with the WebApps tool, please see the Related Articles at the bottom of this page.
Note: We are using WordPress as our example application in this walkthrough. The installation process for other applications is the almost the same, only the number of fields that you have to fill out will change.
For this article, we will assume that you are already logged into SiteAdmin.
1) From the menu on the left hand side of your screen select the + beside Web Apps to reveal Install & Manage Web Apps. Select this.
2) You will now be presented with a list of the most commonly installed applications. If you do not see your choice on the first page, you can utilize the search feature or browse based on a category of the type of software you are looking for.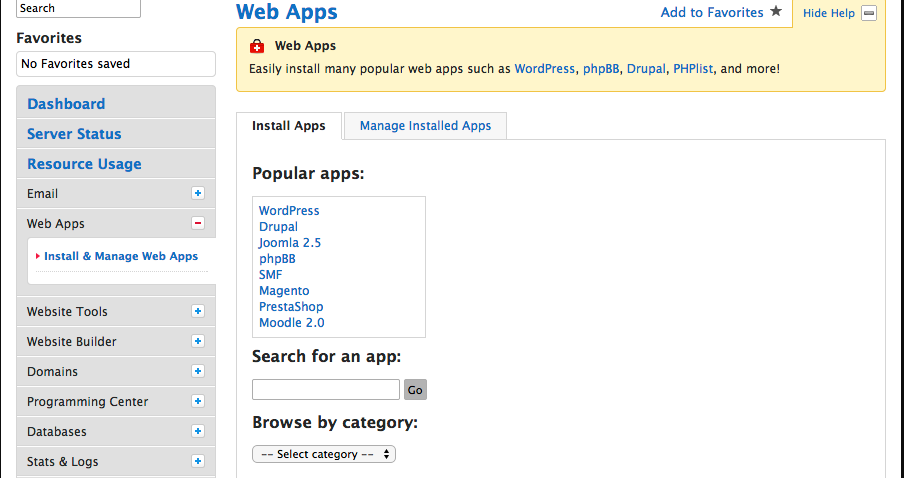 3) Select the software you wish to install. You will be presented with a description of what the software can do. If the description does not fit your needs, you can select another software and read its description before you choose to install it.
If the software you selected is something that you would like to use, select Install now!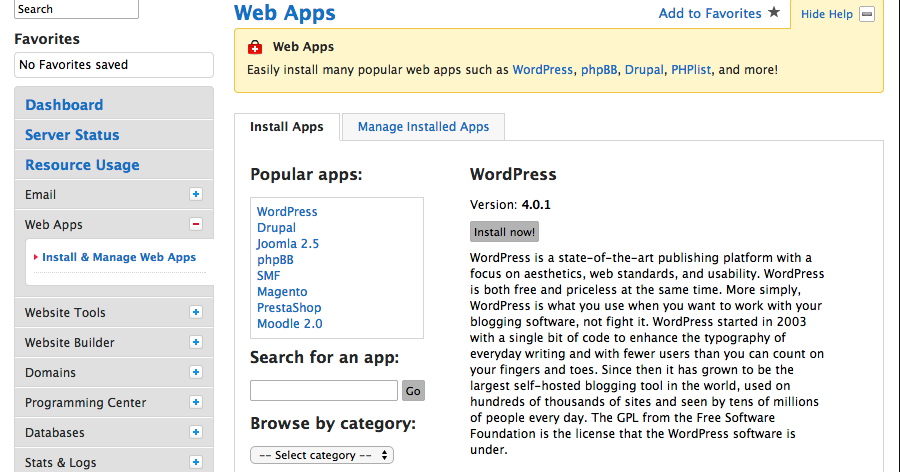 4)You will now be presented with some options on how you want to setup the software on your domain.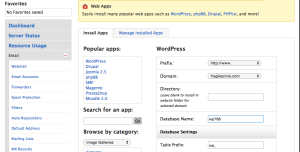 Prefix = This will be http:// by default. This should only need to be changed in the event that you have very specific needs how you wish the website address to look in the web browser (rewrite rules) or if you have an SSL certificate configured (https://www)
Domain = If you have multiple domains configured, you will be presented with a drop down box in which you can select the domain name of your choosing to install the application.
Directory = If you wish to install the application to a specific folder on your existing website (eg: http://yourdomain.com/bob), you would enter the name here. Leaving this field empty will install it as the main website (http://yourdomain.com).
Database Name = If you wish to customize the name of your database, you can do so. This is purely cosmetic.
Table Prefix = This is also cosmetic and need not be altered.
5) The steps outlined from here on out, have some features that are specific to a WordPress installation which is what we are using in this guide. Other softwares may require different fields be filled out however all of the software will require the setup of the administrative username and password.
6) Since we are configuring WordPress, we need to specify some additional details. The settings below can easily be altered after the installation if you wish to use something different.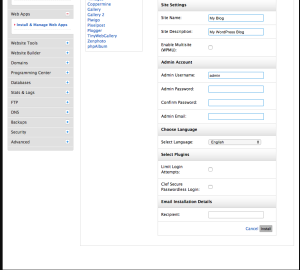 Site Name = Your Site Name
Site Description = A line of text that will be displayed after your Site Name.
Enable Multisite = When checked this will enable a special "mode" that is built into WordPress, which allows you to create a network of multiple websites, all running on a single installation of WordPress. If you are only wishing to use running a single website, you will not need to check this off.
Admin Username = Admin is the default but this can be changed to whatever you wish.
Admin Password = Enter the password that you want to use in conjunction with your username. Click the key to generate a random password.
Admin Email = This is the email address that the Forgot Password feature will email to reset the password
Select Language = WordPress is available in a host of languages for your choosing!
Limit Login Attempts = This feature is designed to protect your WordPress installation from harm by limiting the number of incorrect login attempts one IP address can do, before it is blocked from further tries. This ensures that attackers are not able to "brute force" a way to guessing your password.
Clef Secure Passwordless Login = Do not check this unless you have Clef installed or in use on your account.
Email Installation Details = If you wish to send the details of the installation, including the admin username/password to a 3rd party person
10) Click Install.
After a moment, the software will be send the email with the details, and then provide you with links to view the newly installed software and how to access the administration panel for the software.
That's it! You now know how to install a script in Web Apps. If you wish to learn how to manage the applications after installation, please see our guide on managing software via web apps.