cPanel: Web Disk
In this article, we will show you how to create and access the configuration page for the Web Disk feature.
The Web Disk feature is cPanel's implementation of the WebDav protocol. This feature allows you to manage files associated with your website. By creating an account and accessing your Web Disk, you can navigate, upload, and download files to and from your web server as though they were part of your personal computer.

Note: Please note this feature is only available in cPanel and does not apply to SiteAdmin customers.
1) Login to cPanel
2) Click the Web Disk option from the Files section.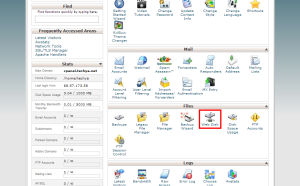 You can create new accounts by filling out the form.
You can access the configuration page by clicking the Access Web Disk button.