Email: Setup a user based catchall email account
In this article we will demonstrate a way to use a catchall with multiple users. This can be helpful if you want to have an email format like john_*@example.com where the * would act as a wild card and match anything while the john_ would make the email to go the john's normal email address.
For example:
john_junk@example.com
john_friends@example.com
john_work@example.com
Any emails listed above would be redirected to a single email of our choice. While the following would not go to john's email…
joe_junk@example.com
jim@example.com
info@example.com
etc…
Here is how to set it up…
Please Note: We are using SiteAdmin in this article. If you are using cPanel, the steps might be slightly different.
1) Log in to SiteAdmin or cPanel.
2) Create a new email address (something like wild@yourdomain.com or catchall@yourdomain.com would work) to be used as the catchall. This email address will simply contain the filters needed to make this setup work.
For information on how to do this, please click here.
3) Go to the default address section and configure it so all emails are sent to our new address.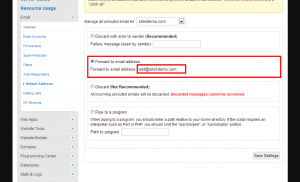 4) Go to the Filters section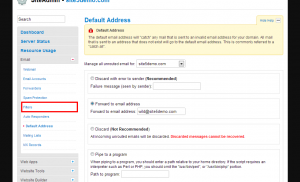 5) Select the new catchall email address from the Manage Filters for drop-down.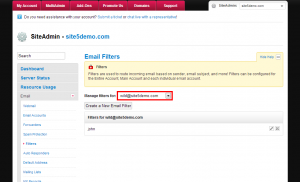 6) Click the Create a New Email Filter button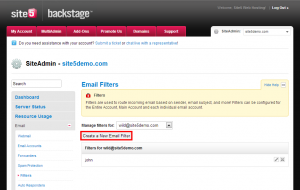 7) Name your filter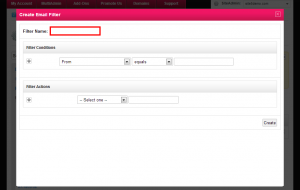 8) The conditions should be as follows: To -> matches regex -> name_.+@yourdomain.com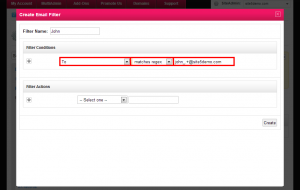 Name and yourdomain should be replaced with the name you wish to use in the email and your domain.
9) Set the filter action to redirect to email, then enter the email you want the messages to get sent to.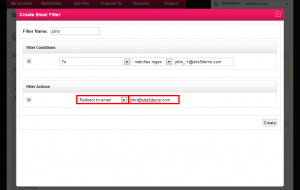 10) Click Create.
That's it! You can add as many filters/user catchalls as you wish. Remember to keep the first part of the filter unique or you may have emails not being redirected correctly.
Please take great care in using this as this could open up an opportunity to allow large amounts of spam to come in from multiple address.
If you have any recommendations for this article, please feel free to leave a comment!