Joomla 1.5: How to Update Joomla
In this article, we will show you how to update your Joomla 1.5 site to the most current 1.5 release. Joomla has stopped providing updates for Joomla 1.5, so the most current stable release of the Joomla 1.5 series is Joomla 1.5.26. If you currently have this version, than you don't need to update your site.
You can check your current version of Joomla by logging into the administrator panel and looking in the top right corner.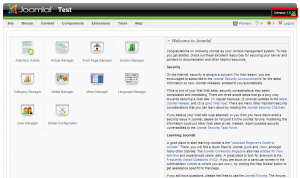 Joomla 1.5 is very easy to update. The only thing you need to do is upload the updated files. These files are released in whats called a "patch" file.
For this article, you will need FTP access to your account.
1) Download the 1.5.26 patch by clicking here. If you currently have 1.5.25 installed, download the Joomla_1.5.25_to_1.5.26-Stable-Patch_Package.zip file. If you have a previous version of 1.5.x download the Joomla_1.5.0_to_1.5.26-Stable-Patch_Package.zip file.
2) Extract the files to a folder somewhere on your computer.
3) Open your preferred FTP client and connect to your account.
4) Upload the files we extracted into the root of your Joomla website, overwriting any files.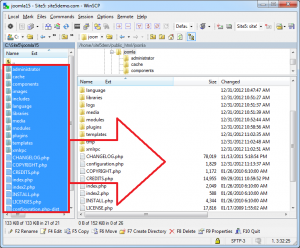 Please Note: If you have made custom changes to your Joomla site, uploading theses files could overwrite these changes. If your site is stock (meaning no custom code changes), than you should be fine. Remember to always make a backup before making big changes like this.
5) Once all the files are done uploading, check your site to ensure that it still works. If it does, you are done!