New Backstage – Domains: Register a Domain
In this area of Backstage you are naturally able to register domains with Site5. All you need to do is enter the domain you'd like, choose if you want a .com or something else, and search to make sure it's available, and if it is, select how long you wish to register it for.
For this article, we will assume that you are already logged into the new Backstage area.
Step 1) You may either type your desired domain name directly into the "Register a New Domain" input box on your Dashboard, or hover the "Domains" tab from the top menu and click on "Register a New Domain".
Step 2) Type your desired domain name into the input box, select the TLD (top-level domain) you'd like, and press the "Check" button.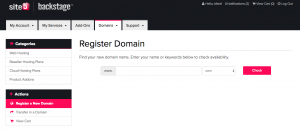 Step 3) The system will tell you if your domain name is available, and offer alternative suggestions if yours is taken.
Tip: If registering a domain for your business, it may be a good idea to protect your brand identity by purchasing common TLD domains as well (.com, .net, .org, .us, etc)
Step 4) Select your desired domain names and how long you'd like to keep them registered, then press "Continue" at the bottom.
Step 5) Continue through the checkout process to register your new domain. Consider opting for the ID Protection to keep your personal information private. Read more about domain privacy here.
That's it! You now know how to register a new domain.
If you have any questions, please feel free to leave a comment here, or you can contact our support team by opening a ticket through Backstage.