New Backstage: How to add an additional user
This guide will help you through the process of adding a secondary email address to your Backstage account. This will allow them to have complete and total access to all aspects of your account or simply allowing them to have the access levels you choose.
Now let's see how to add an extra user.
1) Hover the My Account tab from the top menu, then click Contacts/Sub-Accounts.
2) Now select Add New Contact from the Choose Contact drop-down menu and press the Go button.
3) Enter the information of the new user and tick the box below Activate Sub-Account.
4) You may now edit the permissions for this new user. Specify which features you would like them to have access to.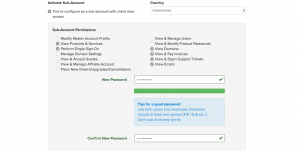 5) Click the Save Changes button.
After the user has been added, you can alter their permissions, delete them or change their password all from within the Users section of Backstage.